5 Reasons Your Dog Needs Mental Stimulation – And What to Do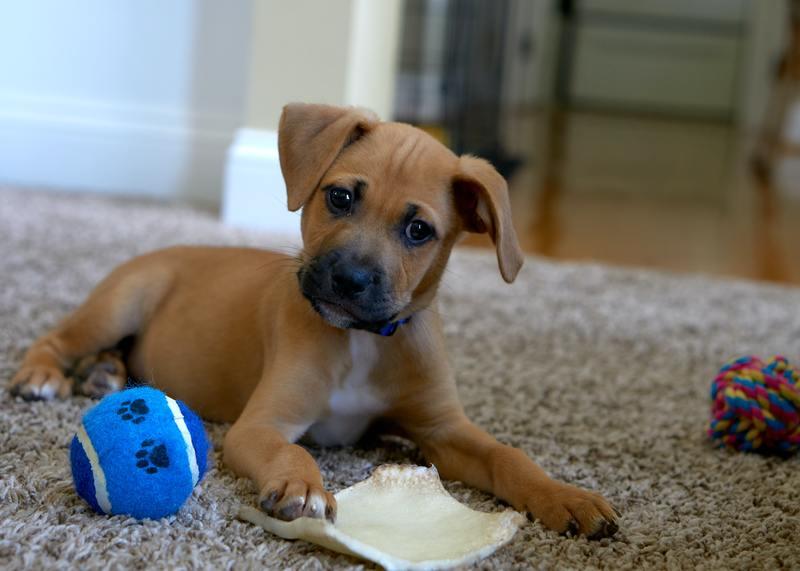 We all need mental and physical stimulation, whether that be going to work every day, going for a morning run, or doing mind teasers on Saturday mornings. As human beings, we require engaging and interactive stimulation to prevent our minds and bodies from becoming stiff and old as we age.
This same principle applies to dogs, emotional support animals in particular. Emotional support animals are not service dogs, who have been trained in certain working and medical tasks to assist their owners, but rather provide solace and comfort in emotionally difficult times or help with anxiety and depression.
Let's get into why dogs need mental stimulation and how to provide that for them!
Reason #1: Emotional Distraction and Release
Although we may not see the strain placed on emotional support animals and dogs, there is a stress that they can receive from being in tune with their owner's emotions. Emotional support animals, like all dogs, can sense sadness and stress in their owners and provide love and affection.
Just as humans do engaging activities to take their minds off of stress and anxiety, emotional support dogs need that too. Engaging in mentally stimulating activities can help distract and remove any type of stress in their lives.
Research has shown that mental stimulation can fend off anxiety and depression in dogs, thus can help your emotional support animal release the stress it might remove from you.
Dogs who are working breeds, like shepherds and hounds, tend to need more of this type of mental stimulation than lapdogs or lazy pups.
Setting up agility courses or taking your dog to a park or dog park can help release physical tension and engage the mind of your emotional support animal.
Agility courses and dog parks provide obstacles that require your dog to think critically and plan a course of action. This form of thinking is a great way to mentally engage your dog and stimulate their minds.
Reason #2: Get Rid of Boredom
Emotional support animals and dogs tend to get very bored, very fast. Since dogs are active creatures, especially big dogs, they need something to do to wear them out during the day.
If you leave your dog or emotional support animal at home during the day by themselves, you might sometimes come home and see a wild mess of torn curtains, broken vases, or shredded couch cushions and a very guilty-looking dog.
This often happens when your dog or emotional support animal is getting restless and bored. You can help get rid of their boredom by providing mental stimulation during the day, even if you are not home to provide it.
Dogs are intelligent animals, so they know how to entertain themselves. Sometimes, the curtains or couch cushions are what they have to entertain themselves. This type of play does not always provide the mental stimulation they need and there is no doubt that you would not like to buy new curtains once a month.
Getting rid of this boredom is as simple as getting toys that help to stimulate the mind of your dog or emotional support animal. Toys that are interactive or physical are great ways for your dog to get physical exercise during the day and get some critical thinking in.
Food puzzles, where your dog has to work to get the treat or food are fantastic methods of mental stimulation and force your dog to think spatially and critically.
Reason #3: Brain Workouts
Just like mind teasers for humans that are designed to prevent the aging of the mind, increase neuroplasticity, and form new neural pathways, a brain workout is a great way for your dog or emotional support animal to slow the aging of their brain and stimulate their gray matter.
Dogs and emotional support animals cannot do the same types of mind teasers that humans do, like sudoku and Rubix cubes, but they can do the "dog version" of those mental workouts.
If your dog is a hunting or working breed that has a powerful nose, try playing hide and seek with them! Go into a room and hide in a place where they cannot see you, like behind a door or curtain, and call them into the room. Have them come find you like hide and seek!
If your dog is less interested in movement and more interested in treats, play the cup game with them! Sit your dog or emotional support animal in front of a line of three cups that are not see-through. Show them that under one cup is a treat while the others are empty.
Move the cups around in the line so the cup with the treat is in a different spot and then see if your dog or emotional support animal can find the treat. It may take them a little while to fully comprehend and learn what is happening, but once they do, you will have trained them and created several critical and spatial thinking pathways in the brain!
Reason #4: Lowered Aggression and Increased Peace
If you have a dog or emotional support dog that is very standoff-ish and aggressive, they may need some mental stimulation to help stop or curve their poor behavior.
Many dogs get aggressive because they are not getting enough attention both mentally and physically. They get bored, cranky, and then aggressive. They might spend all day barking at every bird in the bushes or at the terrified mailman.
At first, the aggression might be stemming from boredom, but it can quickly turn into a personality trait if left without any treatment. If you have other animals or dogs, an emotional support animal, or young children in your household, you might want to assess your dog's aggression and try to lower it through mental stimulation.
In the same way that a dog might tear your living room apart simply because it is bored, a dog might try to attack others. It provides them with stimulation. To decrease this behavior, give them something to work on with their mind.
Puzzles, dog parks, wrestling, tug of war, hide and seek, and interactive toys can help to stimulate your dog or emotional support animal and keep them interested. An interested dog is not bored, so the aggressive behavior may decrease.
If your dog is mentally stimulated frequently but is still exhibiting aggressive and poor behavior, you might want to take them to the vet to check to make sure that there is not anything physically wrong with them, like an injury or illness, that is making them lash out.
Make sure that you are not rewarding aggressive and poor behavior, as that will train them into aggressive animals. It can be very hard to have an emotional support animal that is aggressive because the dog has to be able to be around others and in different environments without barking or attacking other dogs or human beings.
Reason #5: Emotional Bonding
If you can take your emotional support animal to the dog park or play with them for an hour or more each day, they are more likely to begin to create a bind with you of mutual trust.
This bond is what makes an emotional support animal what it is. The bond between an owner and their emotional support animal is strong and intense. It shows the trust and respect between the pair which is reflected by the emotional support animal supporting their owner.
This form of emotional bonding is not only for emotional support animals but is super important for rescue dogs who may have been abused or neglected in their former home. Showing them that you love them by playing with them not only increases their mental stimulation but their emotional trust of you as their owner.
They will begin to understand that you are not like the person who abused or neglected them, and an emotional bond of trust and love will be formed, not unlike the bond between an emotional support animal and their owner.
The same emotional bond is crucial to make if you adopt a puppy. Puppies need to understand love and affection from a young age so that they are not aggressive later in life. If a puppy is no longer living in the same location as it's mother, it will need the care and love that she used to supply it.
Similar to creating an emotional bond with an abused/neglected rescue dog or with an emotional support dog, playing with your puppy will form a bond that instills a feeling of trust and love in the puppy.
When emotional bonds like these are created in puppies, they often become emotional support animals to their owner. Whether or not they are officially certified as emotional support animals, they still provide the same affectionate love.
Overall, you should make sure that your dog is getting plenty of playtime with you and on their own to help slow aging, build trust, increase mental sharpness, and keep your dog healthy! Make sure that their toys and games are challenging for them and increase the difficulty of puzzles as they get good at them!
Recent Posts